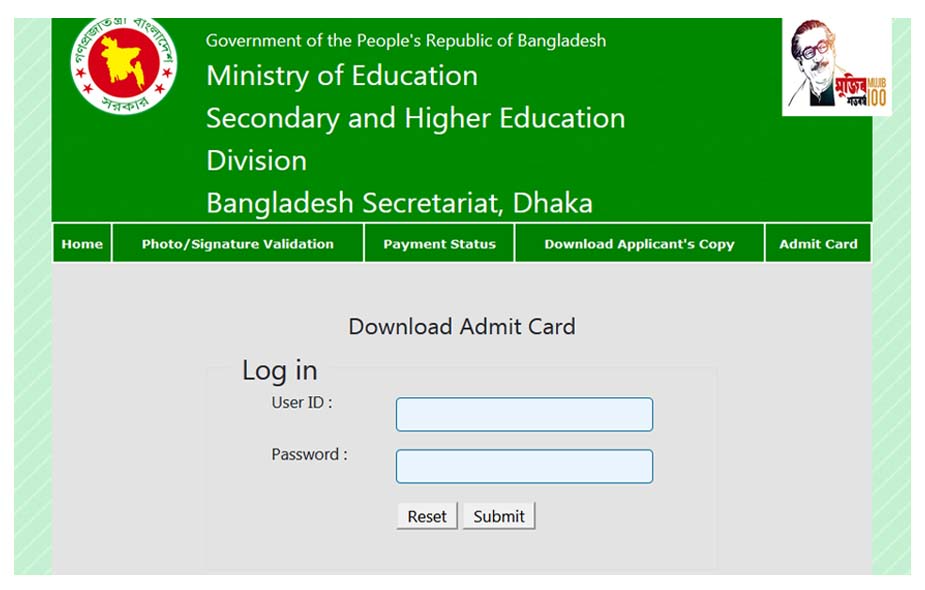 SHED Admit Card 2023: shed.teletalk.com.bd Exam date has been published 18 February 2021 and held of exam date: 12 March 2021. To get Secondary and Higher Secondary all information found our website: www.jobnewsbd24.com otherwise visit to SHED official website available: www.shed.gov.bd and shed.teletalk.com.bd. SHED online application start: 01-December 2020 and End date: 31 December 2020, time- 5.00 pm .
You can also download the admit card from our website, www.jobnewsbd24.com. We publish all the latest updates and information regarding SHED recruitment, including the admit card release date. So, if you are looking for an easy way to download your SHED admit card, do visit our website.
Remember, without a valid admit card, you will not be allowed to enter the exam hall. So, download your SHED admit card as soon as it is released and prepare for your exam with full confidence.
SHED Admit Card 2023
If you have applied for a job in the Secondary and Higher Secondary Education Board (SHED), you must be eagerly waiting for your admit card. Admit card is a crucial document that you must carry to the examination hall as it contains all the necessary information about your exam, such as exam date, time, venue, and other important instructions.
To download the SHED admit card, you need to follow a few simple steps. Firstly, visit the official website of SHED at shed.teletalk.com.bd. Once you are on the website, click on the Admit Card Download option. You will be redirected to a new page where you need to enter your User ID and Password that you received during the application process.
| | | |
| --- | --- | --- |
| Publication Date | : | 18 February 2021 |
| Organization Name | : | Secondary and Higher Secondary |
| Job Category | : | Government Job |
| Application Start Date | : | 01-December 2020 |
| Application End Date | : | 31 December 2020, time- 5.00 pm |
| Post Name | : | Cataloger– 01Computer Operator- 03Steno-Typist Cum Computer Operator – 09Office Assistant Cum Computer Typist- 06Office Shahayok- 22 |
| Exam Date | : | 12-March-2021 |
| Admit Card Download Source | : | Online |
SHED.Teletalk.com.bd Admit Card & Exam Date Notice
After entering your credentials, click on the Submit button. Your SHED admit card will appear on your screen. Carefully check all the details mentioned in the admit card such as your name, exam date, time, and venue. If you find any discrepancy, contact the SHED authority immediately.
Go the their official website: Secondary and Higher Secondary
Select Admit Card Menu option
Input your User ID and Password (Which candidate to get mobile SMS)
Click to Submit Button
You see Admit Card Download Option
Admit card Save and Color Print out A4 Paper.
SHED Admit Card & Seat Plan
Secondary and Higher Secondary will be published their official website published & otherwise visit to our website seen all information. Most government jobs circular don't a separate plan which can be found through admit card.
All information found admit card such as: Exam Center, Exam Venue, Exam Location & requirement information seen here. Some government jobs exam seat plan candidates will be notification by authority through desired number mobile SMS and exam authority has been published seat plan their official website.
SHED Teletalk Apply- shed.teletalk.com.bd
First, Visit to SHED Official website: shed.teletalk.com.bd
Then, Select your desired post & click here to apply now
Input your required information such as Name, Fathers, Mothers, Date of Birth, Religion, Nationality, National Id Card / Birth Registration No/Passport, Quota (If there is Freedom Fighter & Other Quota), Present and Permanent Address (Village, Post Office, Post Code, Thana, District) and Educational Qualification etc. (N.B: In the case of women: If you married, the permanent address should be show husband address )
Then, Click the Next Step
Your all Information is checked. If you give any wrong information, the authority want to the Application will be Rejecting (N.B: The application forms carefully fill up. A little mistake can cause because you to lose your desired job. so that there is no mistake)
Upload Recent Picture size (300×300) should be image size 100 KB & Signature size (300×80) should be image size 100 KB by the scan copy.
Then, Click the Submit
Save and Color Print out A4 Size Paper (that It will be need future )
Payment Process
After successfully submit your application before you should be recheck you application form because if you submit to application payment then, there will be no chance of correction. However, you have to apply to get USER ID. Then pay the application fee using the USER ID. Application fee must be paid otherwise the application will be reject. After applying should be paid Application fees in 72 hours. Check your balance; you must be your account adequate amount balance. Application fee paid by Teletalk Prepaid Mobile Phone So, follow to the Instruction below format:
First Message
Go to the Message Option your mobile or Modem
Create a New Message
SHED<SPACE> USER ID AND SEND TO 16222
EXAMPLE: SHED ABCDEF AND SEND TO 16222
After send the first SMS you will receive a PIN number. You will see a Pin Number along with name and post name. Pin number using 2nd Message
Second SMS
SHED <SPACE> YES <PIN NUMBER> AND SEND TO 16222
SHED YES 123456 AND SEND TO 16222
You will receive a User ID and Password. It will be used future in admit card download.
After successfully sending the message, you give congratulation message. There are you can see USER ID & Password. You should User Id & Password keep note because which can delete the message different reason which can cause a lot of suffering. This User ID & Password using you will admit card download later.
SHED Exam Result
(SHED) exam Result has been published by found available their official website: www.shed.gov.bd. It is important for every candidate. But we make mistakes in this place. Many candidates are selected but don't know the result. Eligible Candidate will be notification through Mobile Number with SMS but many times notification may not come. SHED Related all information found available here Viva Exam, Viva Exam Schedule etc. So, our website bookmark otherwise keep note.
Conclusion: You can report any jobs related any question to known below comment box. We try to every time Google update new all Admit & Exam Result news will be published. So, every time connected our website.