Honours Admission Result 2023: The National University Admission Result for the year 2022-2023 to be published on 18th May through the official website nu.ac.bd/admissions.
Among students who have applied for admission to various subjects, they are eagerly waiting for the honours 1st merit list admission result 2023. National universities are declaring the result publication date- 18 May 2023 (4:00 PM).
by entering their admission roll number with pin number information on the National University's website- app1.nu.ac.bd.
Honours Admission Result 2022-23
The students are eagerly waiting for the National University Honours Admission Result 2023. Glad news that the 1st merit list result will be published on 18 May 2023. The result view to nu admission website- app1.nu.ac.bd.
The result through the SMS system and online platforms download the result. Students who have applied for honours admission, they can know the easy process, just following the section below. National University will find guidance on checking their results using both methods.
Section 1: SMS System: Honours Admission
Those students don't selected in the 1st merit list, For the convenience of the students 2nd and 3rd merit list Honours Admission Result 2023. However, during the result publication period, the online system may experience high traffic, causing delays. In such cases, students can follow an alternative method to access their results via SMS.
When you fail , the national university's official website. At this moment, you can follow the national university message procedure. Just, any operator mobile message sending message, you can download the result from online.
NU<SPACE>ATHN<SPACE>Roll No>>>>>>>>>>send to 16222

Explain: NU ATHN 3154055>>>>16222
Section 2: Online Method
National University Honours Admission Result 2023 Online process view to honours course. Whether you prefer the convenience of online platforms or SMS. Let's delve into the step-by-step instructions for the honours admission result 2023.
NU Website: app1.nu.edu.bd
Admission Roll Number and PIN Number Enter
Click the SUBMIT button.
New windows show your screen; now view the result.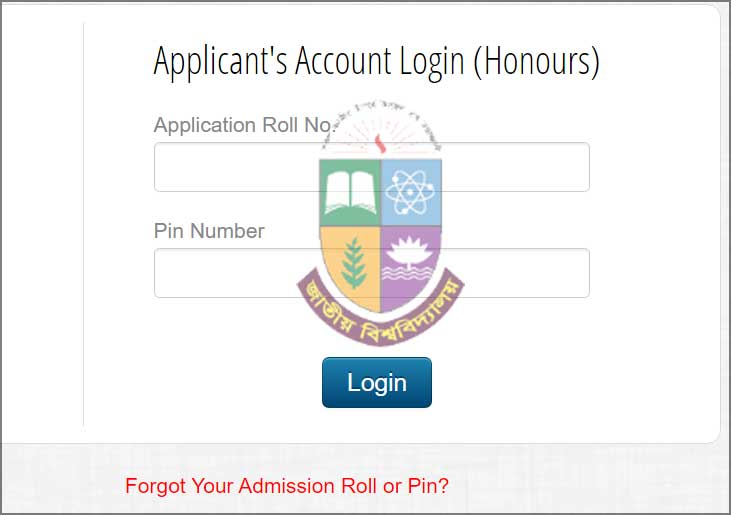 Conclusion: National University "Honours Admission Result 2023" related to any information sent to below remark box. Thanks for visiting our site- jobnewsbd24.com.